Sustainable Forestry Road Over Deep Saturated Peat
Neoloy® Tough-Cells provide foresters with a novel solution that is revolutionizing the way forestry roads are built and timber harvested.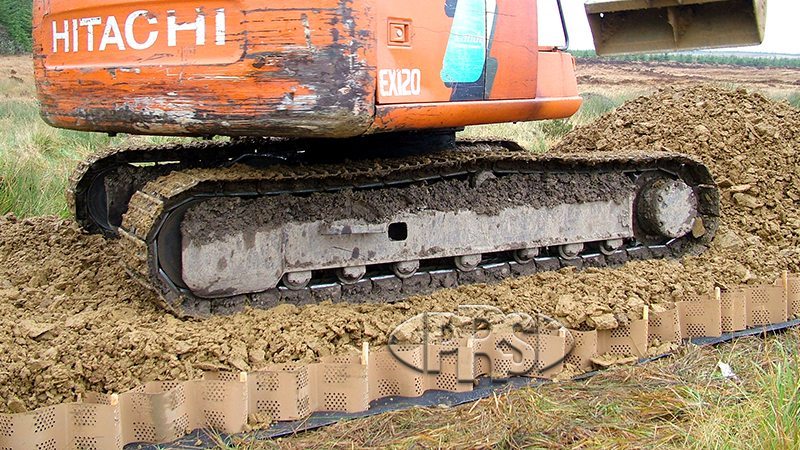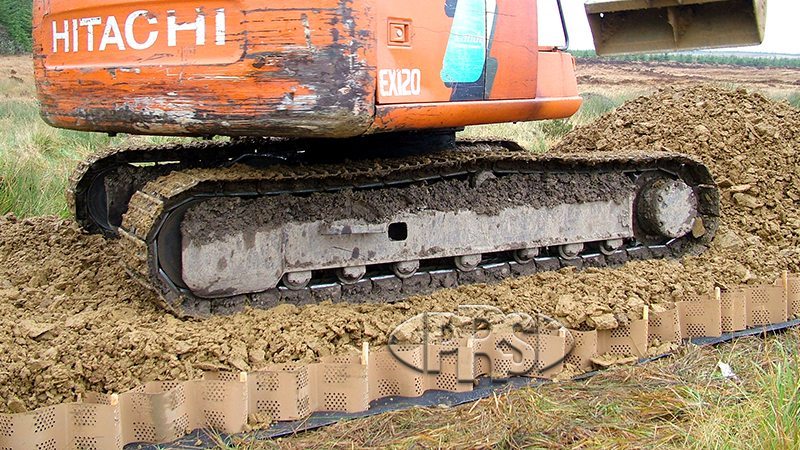 The Challenge
Coillte Forestry company required a logging road over deep upland-peat in the in a remote mountainous area of South West Ireland. The existing peat has poor bearing capacity and very saturated, uncapable of handling the 45-tonne vehicles required for timber harvesting.
The conventional solution is a "corduroy road" a portion of the tree harvest is sacrificed, cut and laid  perpendicular across the road for a working platform. This is filled with layers of stone in depths of up to 1.2 metres. This method means a loss of part of the harvest as well as a limited construction pace of about 40-50 linear meters per day and requires availability of reasonable quality stone of suitable size to achieve some interlock.
PRS Neoloy Solution
PRS Neoloy Tough-Cells enabled Coillte to build a cost-effective access road across this area using locally dug, poor-quality stone, which could support heavy loading and frequent passes for a 40-year lifespan!
The Neoloy solution was for a single layer of 200 mm height Neoloy Tough-Cells with a 50 mm overfill directly over a non-woven geotextile separation layer. No subgrade excavation was required. Construction proceeded smoothly in a continuous stream. The customer reported complete satisfaction with the road performance several years after construction.
Why Neoloy
Neoloy Tough-Cells provided a completely innovative solution to a forestry company that built logging roads the same way for decades. The Neoloy Tough-Cell was chosen due to its resistance to fatigue and rutting, even over the softest of soils – and guaranteed to continue its performance with permanent degradation for the 40 year design life of the road.
The solution was developed by PRS Engineering in consultation with the customers technical staff to provide an optimized and cost-effective solution for their unique road engineering requirements.
500% increase in construction speed over traditional methods
No loss of harvest crop to facilitate construction
Reduction in the volume & scale of excavation from local borrow-pits due to the smaller quantity of stone required
Unique Neoloy novel polymer composition mitigates environmental impact, and presents no hazard to natural fora & fauna or watercourses.
Ability to use poor quality in-fll materials – local rounded gravels normally considered unsuitable can be used for fll