Who We Are
PRS (Professional Reinforcement Solutions) Geo – Technologies®, is a global geotechnical engineering company that helps build the future, where every corner of the world is accessible. We combine technology with expertise, to design and deliver proven solutions for load support, slope protection, earth retention and landfill applications.
PRS operates in 75 countries with thousands of successful project implementations for leading international companies.
The very heart of our technology is a strong and most durable cellular confinement system for soil stabilization, called Neoloy® Geocell. For over 20 years our engineering and manufacturing divisions have gained unique expertise in designing, manufacturing and implementing geocell solutions.
When using PRS-Neoloy Geocell solutions, you'll be able build better roads, on any challenging ground, while saving at least 50% of the cost and time required for your project.
On top of it, we believe advanced technologies should be green — that is why our solutions are based on utilizing marginal land and recycled materials. So, when using our solution, you'll be using less asphalt, less aggregate layers, and use any locally available materials for structural infill.
We have succeeded in combining sustainability and technology for the 21st century, to pave better roads with less resources and time.
Our Story – The Evolution of Geocells
In the 1980's geocells started to be used for commercial applications using High Density Polythelyn (HDPE) (read more about geocell evolution here). Realizing that HDPE geocells were lacking engineering methods and properties required for long term use, and with the emergence of new polymer technolgoies, in 1996 PRS embarked an extensive R&D program with world renowned geotechnical experts to develop a Novel Polymer Alloy (NPA) called – Neoloy®. Known as 'Tough Cells', the Neoloy Geocells provide superior engineering characteristics – high elastic stiffness, resistant to plastic deformation (creep) and high tensile strength, which are suitable for heavy-duty and long term use.
PRS-Neoloy Geocell Proven Technology By Leading Experts
Neoloy Geocell engineering performance has been researched, tested and validated with world renowned geotechnical experts and academic research institutes. The result of this research was over 55 professional published papers on Neoloy (NPA) geocells and projects in the last 10 years. The collaborative testing program included leading institutes and authority's around the world, such as the US Federal Highway Administration (FHA) and state Departments Of Transportation (DOTs), the Federal Railroad Administration (FRA), RZD Russian National Railways, KOAC-NPC Road Standards Institute, Indian Roads Congress and additional standards, geosynthetics and transportation agencies worldwide.
PRS Solution – What our Customers Say about Us
Over the last 20 years PRS solution was proven to show impressive results in over 1000 successful projects in more than 75 countries. The following are sample recent projects and testimonials.
New Airport International of Mexico (NAICM) – 2016
"The PRS-Neoloy Geocell was the only qualified solution that not only met, but exceeded, all our project requirements…" (Mario Gonzales, Ancara Pavement Engineering, Mexico)
Leading international engineering consultants and the NAICM authority selected PRS-Neoloy-330 Category C geocell as the only qualified solution after extensive testing and trials on problematic soils (CBR <1%). "…  Click Here to Read More.

Railway Applications – Amtrak USA – 2016
"PRS-Neoloy reinforcement proved to be effective in reducing track degradation showing a reduction in the surfacing (maintenance) cycle on the order of seven (7) times."  (Prof. Allan Zarembski, Director of Railroad and Engineering & Safety Program, Univ. of Delaware)
In a project for Amtrak the crucial high-speed Northeast corridor over challenging soil, PRS solution was proven to be the only qualified solution after extensive research. Click Here to Read More.
UK Ministry of Defence (MOD) – 2011
"Neoweb reinforcement system enabled a 75% reduction in aggregate use, and contributed to a reduction in projected cost of the road by 1/3 as compared to traditional building methods."  (Lieut. Colonel M T G Bazeley Royal Engineers)
PRS was chosen due to its high-modulus Neoloy Geocell, quality management, large production capability and proven experience in Route TRIDENT Afghanistan, where it helped save lives, reduced the amount of materials used by 75% and save on construction time while under fire. Click Here to Read More.
PRS Engineering Methods– Optimizing Costs and Performance
 PRS Engineering Division provides professional geotechnical solutions for a wide range of design scenarios. Based on over the vast R&D and thousands of projects implementations, the unique improvement factors of PRS-Neoloy Geocell are embedded in proven design methodologies. In addition, to fully optimize costs and performance, PRS has 4 different Neoloy categories of strengths.
PRS Engineering services include:
Provides expert geotechnical solutions for unpaved roads, airstrips, paved roads, shipyards, railways, heavy-duty haul roads, walls, slopes and channels
Proven design methodologies based on PRS-Neoloy Geocell
+55 Published articles for the vast R&D of PRS-Neoloy Geocell
Conduct pavement optimization for value engineering
Academy Center and Design Seminar's for engineers
PRS Manufacturing – the Largest Geocell Supplier in the world!
PRS optimizes the Geocell properties for specific project requirements and pavement configurations. PRS manufactures both HDPE (soft-cells) and Neoloy (tough cells) and markets each according to their application types. PRS has its own geocell factory to ensure high capacity production at the highest quality standards.
In this facility, PRS can produce over 200 containers per month, making it the largest geocell manufacturer in the world.
PRS attests to its manufacturing competence, integrity, dependability, responsiveness to ensure the scheduled delivery and quality of the product.  The PRS factory utilizes the some of the world's most advanced plastic extrusion technologies, as well as the state-of-the-art QA and testing procedures.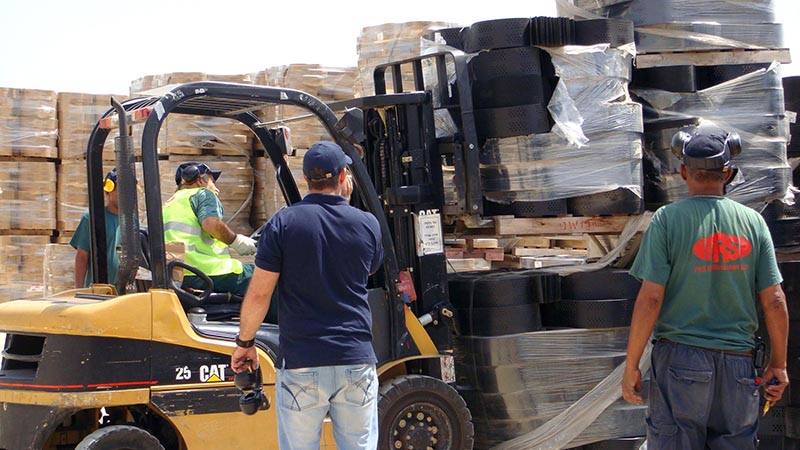 Learn More About PRS