Highway Embankment Stabilization to Prevent Slope Erosion
Slopes on the highway prone to erosion, due to climatic conditions. Neoloy Tough-Cells provided durable highway embankment stabilization.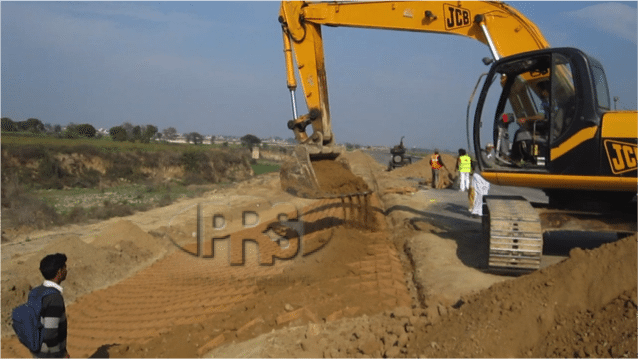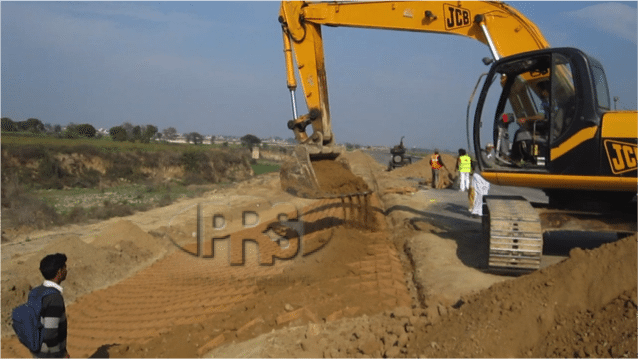 Challenge
The National Highways Authority of India (NHAI) is upgrading the highway system in the Delhi-Bahadurgarh-Rohtak stretch in the west of Haryana state. It entails the constructing a 63.5 km stretch including a new four-lane bypass for Bahadurgarh (13 km) and Rohtak (25 km); and a six-lane stretch between Bahadurgarh and Rohtak on a BOT basis.
Highway embankments are an integral part of the motorway to maintain the finished road levels. The embankments are provided with a 1:2 or 1:1.5 (V:H) side slopes for the stability of embankment. The slopes are subjected to soil erosion from natural erosive forces and climatic conditions, particularly torrential rains and strong winds. National road construction guidelines recommend surface protection in any case where there is a chance of surface erosion.
ERA Infra Engineering Limited—in consortium with the TiCIlL construction arm of the KCT group of companies—was awarded by NHAI for the execution of the Delhi-Bahadurgarh-Rohtak stretch and developing roadside slope protection solutions.
Conventional Solution
Stone pitching, grass turf or coir mats are typical methods to protect the road embankment slope from erosion. Each of these methods has drawbacks, such as high cost, high maintenance cost, low durability etc. Neoloy cellular confinement system is a new sustainable method that is more suitable than conventional alternatives. In addition to reducing the impact of rain and runoff, the 3D geocells excel in promoting vegetative growth, which further protects the soil and slope stability.
PRS-Neoloy® Tough-Cell Solution
Detailed design analysis – After evaluating the soil properties, slope geometry, and loading and analyzing the slope stability, PRS Slope Designer Software, was used to calculate the PRS-Neoloy Tough-Cell confinement properties – including: infill soil and anchorage on driving forces and interface, toe and crest resistance. The end results – the total sliding driving force and total resisting force – were verified by a 1.3 factor of safety for down-slope sliding (based on 28.0 degree PRS-Neoloy infill repose angle).
Installation – PRS-Neoloy Tough-Cell 660 7.5 cm height (500 x 420 mm nominal open cell size) was installed on the slope, and anchored with locally available bamboo stakes. At the crest shoulder and toe PRS-Neoloy Tough-Cell was embedded in the subgrade. Drainage was enhanced by spillways comprised of Neoloy Tough-Cells infilled with large gravel, small boulders (100 mm) over nonwoven textile to improve down-slope stability against high water flow. A collecting drainage system was also installed at the crest.
Environmental –Neoloy is a more effective surface cover than stone pitching and better for vegetative growth.
Cost-effective – more economic in initial capital cost and long-term maintenance.
Installation – easy and rapid construction.
Sustainable – uses locally available soil for infill instead of stone aggregate.
Erosion control –geocell walls protect soil and young plants; plant mass lessens impact of rain and root-soil interlock strengthens the soil mass; system remains in place.
Safety factor – lower weight as compared to stones provides additional safety to embankment stability.
Quality – certified factory manufactured product ensures better quality control and assurance.